About Us
Jamal Fish Bar is a Fish & Chips takeaway in Walsall. Why don't you try our Chicken Meat & Chips or Chicken Special Pizza?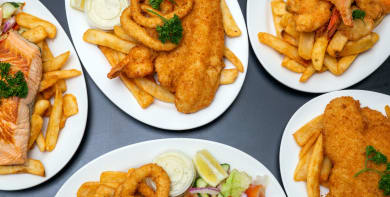 Reviews
116 reviews
shaz
"Food was good as usual and fast service. Didn't receive the 2 scallops i ordered."
01/08/2020
shaz
"Great food and good service as always. Thanks guys."
20/07/2020
Menu
Snickers Milkshake Medium (16oz)
£3.50
Snickers Milkshake Large (20oz)
£4.50
M&M's Milkshake Medium (16oz)
£3.50
M&M's Milkshake Large (20oz)
£4.50
Milkybar Milkshake Medium (16oz)
£3.50
Milkybar Milkshake Large (20oz)
£4.50
Kit Kat Chunky Milkshake Medium (16oz)
£3.50
Kit Kat Chunky Milkshake Large (20oz)
£4.50
Twix Milkshake Medium (16oz)
£3.50
Twix Milkshake Large (20oz)
£4.50
Oreo Milkshake Medium (16oz)
£3.50
Oreo Milkshake Large (20oz)
£4.50
Ferrero Rocher Milkshake Medium (16oz)
£3.50
Ferrero Rocher Milkshake Large (20oz)
£4.50
Kinder Bueno Milkshake Medium (16oz)
£3.50
Kinder Bueno Milkshake Large (20oz)
£4.50
Aero Peppermint Milkshake Medium (16oz)
£3.50
Aero Peppermint Milkshake Large (20oz)
£4.50
Ben & Jerry's 500ml Cookie Dough
£4.99
Ben & Jerry's 500ml Chocolate Fudge Brownie
£4.99
Peri Peri Half Chicken Meal
£3.99
Topping Mozzarella Cheddar Cheese
1st Half Pizza Margherita
1st Half Pizza Chicken & Mushroom
1st Half Pizza Vegetarian
1st Half Pizza Vegetarian Hot
1st Half Pizza California
1st Half Pizza Mexican Hot
1st Half Pizza Chicken Special
1st Half Pizza Chicken Jalapenos
1st Half Pizza BBQ Special
1st Half Pizza Hot 'n' Spicy
1st Half Pizza Meat Feast
1st Half Pizza Pepperoni Plus
1st Half Pizza Double Pepperoni
1st Half Pizza Kebab Delight
1st Half Pizza Keema Special
1st Half Pizza Jamal Special
1st Half Pizza Mexican Chicken
1st Half Pizza Desi Style Hot
2nd Half Pizza Margherita
2nd Half Pizza Chicken & Mushroom
2nd Half Pizza Vegetarian
2nd Half Pizza Vegetarian Hot
2nd Half Pizza California
2nd Half Pizza Mexican Hot
2nd Half Pizza Chicken Special
2nd Half Pizza Chicken Jalapenos
2nd Half Pizza BBQ Special
2nd Half Pizza Hot 'n' Spicy
2nd Half Pizza Meat Feast
2nd Half Pizza Pepperoni Plus
2nd Half Pizza Double Pepperoni
2nd Half Pizza Kebab Delight
2nd Half Pizza Keema Special
2nd Half Pizza Jamal Special
2nd Half Pizza Mexican Chicken
2nd Half Pizza Desi Style Hot
Chicken Meat & Chips Medium
£3.50
Chicken Meat & Chips Large
£4.50
Donner Meat & Chips Medium
£3.50
Donner Meat & Chips Large
£4.50
Mixed Meat & Chips Medium
£3.50
Donner Kebab in Naan Medium
£3.50
Donner Kebab in Naan Large
£4.50
Chicken Donner Kebab in Naan Medium
£3.50
Chicken Donner Kebab in Naan Large
£4.50
Mixed Meat in Naan Medium
£3.50
Donner Meat in Pitta - Medium
£2.99
Chicken Meat in Pitta - Medium
£2.99
Donner Meat in Tray Medium
£3.99
Donner Meat in Tray Large
£4.99
Chicken Meat in Tray Medium
£3.99
Chicken Meat in Tray Large
£4.99
Mixed Meat in Tray Medium
£3.99
Peri Peri Platter -1
1 Full peri peri chicken, 6 peri peri wings, 2 regular chips & a 1.5ltr bottle of drink
£10.99
Peri Peri Platter -2
1 Full peri peri chicken, 8 peri peri wings, 2 peri peri burgers, 2 regular chips & a 1.5ltr bottle of drink
£14.99
Peri Peri Platter -3
2 Full peri peri chicken, 8 peri peri wings, 2 regular chips, 2 peri peri burger & a 1.5ltr bottle of drink
£19.99
Peri Peri Chicken Wings (8)
£2.99
Chicken Nuggets (5) & Chips
£2.99
Grilled Masala Fish - Naan
£4.50
Chips with Curry Sauce Medium
£1.99
Chips with Curry Sauce Large
£2.50
Mixed Kebab Burger Single
£2.50
Donner Kebab Burger Single
£2.00
Chicken Kebab Burger Single
£2.00
Chicken Kebab Burger Meal
£3.00
Chicken Fillet Burger Single
£2.50
Chicken Fillet Burger Meal
£3.50
Double Cheeseburger Single
£3.50
Peri Peri Flame Grill Burger Single
£2.50
Peri Peri Flame Grill Burger Meal
£3.50
Cheeseburger with Sunshine Egg Meal
£3.99
Cheeseburger with Sunshine Egg Single
£2.99
Pineapple Cheeseburger Meal
£3.99
Pineapple Cheeseburger Single
£2.99
Mighty Burger Meal
Triple cheese, triple burger with pepperoni
£5.99
Mighty Burger Single
Triple cheese, triple burger with pepperoni
£4.99
Kids 9" Pizza with 2 Toppings Chips
With fries or chips, fruit shoot & jam doughnut
£4.99
Kids 9" Pizza with 2 Toppings Fries
With fries or chips, fruit shoot & jam doughnut
£4.99
Kids 4 Chicken Nuggets
With fries, Fruit Shoot & jam doughnut
£3.50
Kids 3 Fish Fingers
With fries & Fruit Shoot
£3.50
Grilled Peri Peri Wings (8 Pieces)
£2.99
Grilled Masala Fish Fries
£4.50
Grilled Masala Fish Chips
£4.50
Grilled Cod Masala Fish with Chips
£4.99
Healthy Option For 2
8 Pieces grilled peri peri wings
Full peri peri chicken, 1 chips, 1 naan
2 Cans of Pepsi
£9.99
Garlic Bread (4) With Cheese
£2.99
Garlic Bread (Pizza Base) 09" Regular
£2.99
Garlic Bread (Pizza Base) 12" Large
£4.99
Garlic Bread (Pizza Base) 16" X-Large
£7.99
1 Piece of Chicken Single
£1.50
2 Pieces of Chicken Single
£2.60
3 Pieces of Chicken Single
£3.70
4 Pieces of Chicken Single
£4.80
Margherita 100% Pizza 09" Regular
Mozzarella cheese & tomato sauce
£7.99
Margherita 100% Pizza 12" Large
Mozzarella cheese & tomato sauce
£10.99
Margherita 100% Pizza 16" X-Large
Mozzarella cheese & tomato sauce
£13.99
Chicken & Mushroom Pizza 09" Regular
£7.99
Chicken & Mushroom Pizza 12" Large
£10.99
Chicken & Mushroom Pizza 16" X-Large
£13.99
Hawaiian Pizza 09" Regular
Mozzarella cheese, turkey ham & pineapple
£7.99
Hawaiian Pizza 12" Large
Mozzarella cheese, turkey ham & pineapple
£10.99
Hawaiian Pizza 16" X-Large
Mozzarella cheese, turkey ham & pineapple
£13.99
Vegetarian Pizza 09" Regular
Mozzarella cheese, onion, mushrooms, sweetcorn & green pepper
£8.99
Vegetarian Pizza 12" Large
Mozzarella cheese, onion, mushrooms, sweetcorn & green pepper
£12.99
Vegetarian Pizza 16" X-Large
Mozzarella cheese, onion, mushrooms, sweetcorn & green pepper
£16.99
California Chicken Pizza 09" Regular
Mozzarella cheese, chicken tikka exotic cream, mushroom & chicken
£8.99
California Chicken Pizza 12" Large
Mozzarella cheese, chicken tikka exotic cream, mushroom & chicken
£12.99
California Chicken Pizza 16" X-Large
Mozzarella cheese, chicken tikka exotic cream, mushroom & chicken
£16.99
Mexican Hot Pizza 09" Regular
Mozzarella cheese, chicken tikka, pepperoni, jalapeno, onion, green pepper & green chillies
£8.99
Mexican Hot Pizza 12" Large
Mozzarella cheese, chicken tikka, pepperoni, jalapeno, onion, green pepper & green chillies
£12.99
Mexican Hot Pizza 16" X-Large
Mozzarella cheese, chicken tikka, pepperoni, jalapeno, onion, green pepper & green chillies
£16.99
Chicken Special Pizza 09" Regular
Mozzarella cheese, spicy chicken, mushroom, onion & green peppers
£8.99
Chicken Special Pizza 12" Large
Mozzarella cheese, spicy chicken, mushroom, onion & green peppers
£12.99
Chicken Special Pizza 16" X-Large
Mozzarella cheese, spicy chicken, mushroom, onion & green peppers
£16.99
Chicken Jalapenos Pizza 09" Regular
Mozzarella cheese, spicy chicken tikka, pineapple, green peppers, onion & jalapenos
£8.99
Chicken Jalapenos Pizza 12" Large
Mozzarella cheese, spicy chicken tikka, pineapple, green peppers, onion & jalapenos
£12.99
Chicken Jalapenos Pizza 16" X-Large
Mozzarella cheese, spicy chicken tikka, pineapple, green peppers, onion & jalapenos
£16.99
BBQ Special Pizza 09" Regular
Mozzarella cheese, spicy chicken tikka, mushroom, onion, green peppers & BBQ sauce
£8.99
BBQ Special Pizza 12" Large
Mozzarella cheese, spicy chicken tikka, mushroom, onion, green peppers & BBQ sauce
£12.99
BBQ Special Pizza 16" X-Large
Mozzarella cheese, spicy chicken tikka, mushroom, onion, green peppers & BBQ sauce
£16.99
Hot 'n' Spicy Pizza 09" Regular
Mozzarella cheese, spicy minced lamb, jalapenos, peppers & onion
£8.99
Hot 'n' Spicy Pizza 12" Large
Mozzarella cheese, spicy minced lamb, jalapenos, peppers & onion
£12.99
Hot 'n' Spicy Pizza 16" X-Large
Mozzarella cheese, spicy minced lamb, jalapenos, peppers & onion
£16.99
Meat Feast Pizza 09" Regular
Mozzarella cheese, chicken tikka, lamb, pepperoni & turkey ham
£8.99
Meat Feast Pizza 12" Large
Mozzarella cheese, chicken tikka, lamb, pepperoni & turkey ham
£12.99
Meat Feast Pizza 16" X-Large
Mozzarella cheese, chicken tikka, lamb, pepperoni & turkey ham
£16.99
Pepperoni Plus Pizza 09" Regular
Mozzarella cheese, double pepperoni, jalapeno, onion & mushroom
£8.99
Pepperoni Plus Pizza 12" Large
Mozzarella cheese, double pepperoni, jalapeno, onion & mushroom
£12.99
Pepperoni Plus Pizza 16" X-Large
Mozzarella cheese, double pepperoni, jalapeno, onion & mushroom
£16.99
Double Pepperoni Pizza 09" Regular
Mozzarella cheese & double pepperoni
£8.99
Double Pepperoni Pizza 12" Large
Mozzarella cheese & double pepperoni
£12.99
Double Pepperoni Pizza 16" X-Large
Mozzarella cheese & double pepperoni
£16.99
Kebab Delight Pizza 09" Regular
Mozzarella cheese, chicken kebab, donner kebab, green peppers & onion
£8.99
Kebab Delight Pizza 12" Large
Mozzarella cheese, chicken kebab, donner kebab, green peppers & onion
£12.99
Kebab Delight Pizza 16" X-Large
Mozzarella cheese, chicken kebab, donner kebab, green peppers & onion
£16.99
Jamal Special Pizza 09" Regular
Mozzarella cheese, ground mince, tandoori chicken, pepperoni & onion
£8.99
Jamal Special Pizza 12" Large
Mozzarella cheese, ground mince, tandoori chicken, pepperoni & onion
£12.99
Jamal Special Pizza 16" X-Large
Mozzarella cheese, ground mince, tandoori chicken, pepperoni & onion
£16.99
Mexican Chicken Pizza 09" Regular
Spicy chicken tikka, jalapenos, onions & green peppers
£8.99
Mexican Chicken Pizza 12" Large
Spicy chicken tikka, jalapenos, onions & green peppers
£12.99
Mexican Chicken Pizza 16" X-Large
Spicy chicken tikka, jalapenos, onions & green peppers
£16.99
Desi Style Hot Pizza 09" Regular
Tandoori chicken, onions, green peppers & chillies
£8.99
Desi Style Hot Pizza 12" Large
Tandoori chicken, onions, green peppers & chillies
£12.99
Desi Style Hot Pizza 16" X-Large
Tandoori chicken, onions, green peppers & chillies
£16.99
Vegetarian Hot Pizza 09" Regular
Mozzarella cheese, onion, mushrooms, sweetcorn, green peppers, green chilli & jalapeno
£8.99
Vegetarian Hot Pizza 12" Large
Mozzarella cheese, onion, mushrooms, sweetcorn, green peppers, green chilli & jalapeno
£12.99
Vegetarian Hot Pizza 16" X-Large
Mozzarella cheese, onion, mushrooms, sweetcorn, green peppers, green chilli & jalapeno
£16.99
Half & Half Pizza 12" Large
£13.99
Half & Half Pizza 16" X-Large
£17.99
Margherita Pizza 09" Regular
With fresh garlic & fresh tomato
£7.99
Margherita Pizza 12" Large
With fresh garlic & fresh tomato
£10.99
Margherita Pizza 16" X-Large
With fresh garlic & fresh tomato
£13.99
AL Funghi Pizza 09" Regular
Ham & mushrooms
£7.99
AL Funghi Pizza 12" Large
Ham & mushrooms
£10.99
AL Funghi Pizza 16" X-Large
Ham & mushrooms
£13.99
Veggie Sizzler Pizza 09" Regular
Red & green pepper, red onion, tomato & green chilli
£8.99
Veggie Sizzler Pizza 12" Large
Red & green pepper, red onion, tomato & green chilli
£12.99
Veggie Sizzler Pizza 16" X-Large
Red & green pepper, red onion, tomato & green chilli
£16.99
Americano Pizza 09" Regular
Pepperoni, sausage, mushrooms & ham
£8.99
Americano Pizza 12" Large
Pepperoni, sausage, mushrooms & ham
£12.99
Americano Pizza 16" X-Large
Pepperoni, sausage, mushrooms & ham
£16.99
Vegetable Calzone 09" Regular
Rolled pizza stuffed with mushrooms, onions, sweetcorn & green peppers
£3.99
Vegetable Calzone 12" Large
Rolled pizza stuffed with mushrooms, onions, sweetcorn & green peppers
£5.99
Vegetable Calzone 16" X-Large
Rolled pizza stuffed with mushrooms, onions, sweetcorn & green peppers
£8.99
Meat Calzone 09" Regular
Rolled pizza stuffed with pepperoni, beef, turkey ham & chicken
£3.99
Meat Calzone 12" Large
Rolled pizza stuffed with pepperoni, beef, turkey ham & chicken
£5.99
Meat Calzone 16" X-Large
Rolled pizza stuffed with pepperoni, beef, turkey ham & chicken
£8.99
Pizza Deal 1
Any 2 x 9" pizza, regular chips & 2 cans of Pepsi
Any 500ml Ben & Jerry's ice cream
£14.49
Pizza Deal 2
Any 2 x 12" pizza, large chips, 6 pieces BBQ wings & 1.5L bottle of Pepsi
Any 500ml Ben & Jerry's ice cream
£21.49
Pizza Deal 3
Any 2 x 16" pizzas, 4 pieces garlic bread, 2 regular chips & a bottle of Pepsi
£19.99
Party Deal
1 x 16" pizza, 1 x 12" pizza, 4 pieces garlic bread, 1 regular chips & a bottle of Pepsi
£19.99
Donner Meal Deal
1 Regular donner meat & chips, 1 regular chicken meat & chips, 4 pieces garlic bread & 2 cans of Pepsi
£9.99
Pizza Deal 4
Any 2 x 16" pizza, donner meat & chips, 4 pieces garlic bread, regular chips & a bottle of Pepsi OR 7up
£21.99
Pizza Deal 5
Any 2 x 12" pizza, 9" pizza base, garlic bread with cheese, 2 cans of Pepsi & regular chips
£15.99
Pizza Deal 6
Any large 12" pizza, regular chips, bottle of 500ml of Pepsi OR 7up
£9.99
Pizza Deal 7
Any 16" pizza, regular chips, bottle of 1.5L of Pepsi OR 7up
£11.99
Pizza Deal 8
1 x 12" PIzza, 1 x 9" margherita, 1 large chips & a bottle of Pepsi
£12.99
Pizza Deal 9
1 x 16" Pizza, donner meat, 1 large chips & a bottle of Pepsi
£14.99
Value Box 1
1 Piece chicken, donner meat, chips & a can of Pepsi
£3.49
Value Box 2
2 Pieces chicken, donner meat, chips & can of Pepsi
£4.99
Mixed Platter
3 Strips, 5 nuggets, 3 jalapeno cream peppers, 4 onion rings & 2 dips of your choice
£4.99
Mighty Burger Meal
Triple burger with pepperoni
Regular chips
Can of drink
Any 500ml Ben & Jerry's ice cream
£10.49
Donner Meat Wrap - Medium
£2.50
Chicken Meat Wrap - Medium
£2.50
Chicken Fillet Wrap Single
£1.99
Chicken Kebab Wrap Single
£1.99
Contact Us
Find Us
222 Prince Street, Walsall, WS29JG
We deliver to
WS1, WS10, WS2, WS3, WS4, WS5, WV12